Thanks to SM2 Locate, answer some important questions: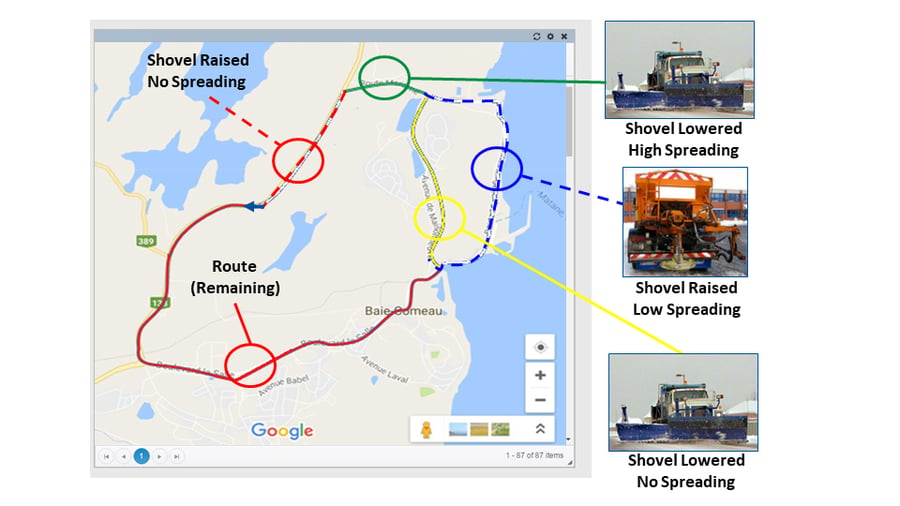 Where are the vehicles?
What are they doing?
Are the vehicles inside authorized zones?
Which equipment needs fuel?
How is what they are doing out there going to affect the organization in here?
With SM2 Locate, benefit from:
Improved understanding of the fleet with historical data and trends identifying underused assets
improved service levels due to using GPS data as an effective scheduling tool for route planning to direct staff along pre-scheduled route (i.e. for snow plows or salting etc.)
Decreased fuel consumption and vehicle emissions as a result of route planning and improved dispatching of units
Improved maintenance and safety with real-time capture of Diagnostics Trouble Codes (DTC) and other critical maintenance planning data from the vehicle's engine
Increased fleet efficiency by proactively managing driving habits, such as speeding, idling, and route optimization through the dispatch module.
Optimized equipment efficiency by tracking the movements of the vehicles relative to the work performed
Reduced dispute resolution with the ability to produce electronic logs
Improved safety with the ability to configure a panic button to notify emergency services of the exact location of an equipment should emergencies occur
Fully integrated to the SM2 platform, SM2 Locate major features include:
Configurable input/output points
Geo-fence, driver log, routing
Automatic e-mail of recurring reports
Graphical display of all activities
Custom exception handling
No matter where in the world, SM2 LOCATE will always report where the equipment is and what it is doing.
With additional integrated modules such as SM2 FUEL, SM2 MAINTAIN and SM2 SECURE, fleet owners can leverage their initial investment for an even greater return.
Contact Us for More info