Most successful entrepreneurs can tell you stories of humble beginnings where their product and service development slowly eased into their targeted marketplace. This is not necessarily so for the Tavassoli brothers and Coencorp. Their beginnings were far from humble and they exploded onto the transit scene with one of the country's largest public transit companies. Here is what happened.
The Customer & The Setting

The Société de transport de Montréal (STM) traces its beginnings back to 1861 when they operated horse drawn trams and is today, a public transport agency that operates transit bus and rapid transit services in Montreal, Quebec, Canada. It is the second most heavily used urban mass transit system in Canada and one of the most heavily used rapid transit systems in North America. As of 2011, the average daily ridership is 2,524,500 passengers: 1,403,700 by bus, 1,111,700 by rapid transit and 9,200 by paratransit service.
Back in the early 1990's, the STM wishing to streamline their operations, published a spec for a solution not based on existing fleet fuel technology but based on their specific and unique requirements. They wanted a customized solution and at that time, there were not many companies who could offer the level of customization, the STM demanded. They needed a solution that could handle:
1,800 buses covering over 200 bus routes servicing over 8,500 bus stops and 68 rapid transit stations.
A reliable solution to keep moving

1,403,700 passengers each workday.

Several garage facilities tasked with managing the STM's vehicle fleet.

A solution that would grow with the transportation needs of the city of Montreal.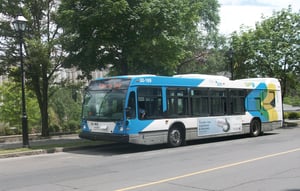 The Challenge
Several companies started to work and develop a solution that would satisfy the needs of the transit corporation. With little existing technology available at the time, developing a solution required extensive meetings, site analysis and consultation with several levels of the STM from upper management to the operations level in the maintenance garages.
Over time, the Tavassoli brothers (Ali and Ahmad) were the only ones left standing who had the courage and tenacity to complete this project. Their ability to find a solution that would meet the stringent requirements won them the project. This first project Coencorp successfully tackled help solidify Coencorp's fundamental culture as a customized solutions provider for integrated fleet fuel and maintenance management solutions.
The Future
From this first project, Coencorp went on to provide integrated fleet management solutions for other public transit companies servicing cities such as Laval in Quebec, Brampton and Mississauga in Ontario and Vancouver in British Columbia. Coencorp continues to develop unique custom solutions to the challenges of today's mass transit corporations because of the total ownership Coencorp enjoys with its product range.
Coencorp now has the SM2 range of products and services:
SM2 FUEL is an enterprise level fuel management solution.

SM2 MAINTAIN is a powerful maintenance and PM management solution.

SM2 LOCATE is an advanced and versatile AVL system.

SM2 SECURE is an enterprise level fuel management solution.
As public transit companies move forward into the 21st century and the electrification of their bus fleets, the challenges are new and unique. Coencorp is there, working closely with each them to provide sound solutions to the challenges of efficiently operating a fleet of electric vehicles.
If you are operating a public transit system and have unique challenges of your own, it would serve you well to contact the company that has built their entire reputation around providing solutions to mass transit challenges for today and for tomorrow.
Download The Public Transit Brochure Below
↓↓↓↓↓↓↓↓↓↓↓↓↓↓↓↓↓↓↓↓↓↓↓↓↓↓↓↓↓↓↓↓↓↓↓↓↓↓